Responsible Investing Experts Here to Help You!

Our experienced team is here to help you make the transition to a fossil-fuel free, sustainable, responsible, and impact investment portfolio. For the last fifteen years, we have walked our clients through the process of divesting from polluting and irresponsible companies and reinvesting in more solutions-based, progressive, and forward-thinking alternatives.
Let us be your guide as you take control of your inheritance or trust, plan for a fulfilling retirement, craft your charitable gifting plan or get ready for that year traveling through Europe. We are uniquely qualified to both help you with your core financial decisions AND your desire to invest in a more sustainable way.
Whether you prefer to do a "coffee meeting" video conference from Portland, a phone call from Boston, or an in-person meeting in our downtown Asheville office, we're honored and excited to help you align your investments with your values!
Earth Equity Advisors By The Numbers
$
148
,
000
,
000
+
client assets managed as of January 20, 2021
22
states our clients call home
1
office located in beautiful Asheville, NC
Meet Your Team of Sustainable, Responsible, and Impact Investing Experts
Read More About Pete
Pete Krull is a well-known leader in the green business community and a long-time advocate for fossil fuel free and sustainable, responsible and impact (SRI) investing.
He started out his investment career at Merrill Lynch in 1998 where he honed his investment management skills and earned the firm's Certified Financial Manager designation. He also guided his clients through the dot-com bubble and recovery.
In 2004, he hung up his shingle as Krull & Company and began the journey as a conscious entrepreneur. From the beginning, he knew that his firm would focus on responsible investing and coined the phrase, "helping you align your investments with your values." In 2017, Krull & Company became Earth Equity Advisors.
Over the years, he has made an impact on his clients, colleagues and communities. He was the Chair of the Asheville-based environmental non-profit MountainTrue during its recent expansion. He has guided Earth Equity Advisors rapid growth as well as the firm's rise to prominence as a four-time Best for the World Certified B Corporation.
He was selected to the 2018 Investopedia 100 list of the one hundred most influential financial advisors in America, and was one of the first individuals to earn the Chartered SRI Counselor™ designation from the College for Financial Planning.
He has been quoted in Money Magazine, The Washington Post, Forbes, Investors Business Daily, US News & World Report, Investment News, Wealth Management, RIA Intel, and several local publications. He has written a column for Valley Business FRONT in Virginia and Mountain Xpress in Asheville as well as being featured in numerous podcasts, magazines and online articles.
His responsibilities at Earth Equity Advisors include managing all of the firm's sustainable, responsible and impact portfolios. He also coordinates the firm's marketing activities and works closely with the team to improve operations and processes.
A native of Western New York, he lives in Asheville, NC with his wife, Dr. Melissa Booth, a microbiologist and author and a very spoiled cat, Savannah. He is a serious amateur photographer, lover of world travel and huge fan of the Buffalo Sabres. He lives in a solar-powered house and drives a Chevy Bolt electric car.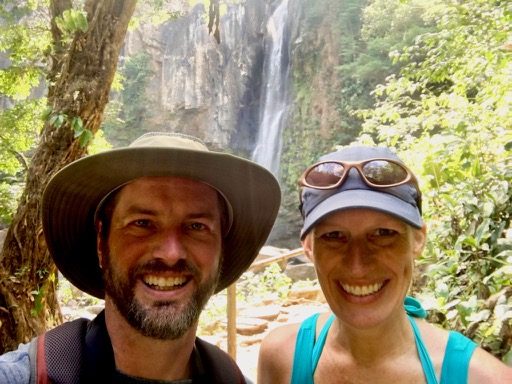 Read More About Neill
Neill takes pride in helping families transition to a responsible investment portfolio. He specializes in NC retirement and can help clients navigate Social Security requirements. In addition, he finds his work with non-profits, especially those that have a social or environmental mission, very rewarding. He believes that by aligning the institution's endowment or investments with its mission, it multiplies the impact of the institution. He works as an advocate for your mission and your finances.
"The realization that we vote, every single day, by the way we spend our dollars.  Our spending fuels a giant economic engine from jobs, to logistics, to materials sourcing – what we buy affects the environment and touches hundreds of lives.  And the flip side of that coin is — how we invest our retirement dollars has the same impact." –Neill Yelverton
Prior to joining Earth Equity Advisors, Neill spent over a decade working in the environmental field. He completed his MBA at Western Carolina University with an independent study in Corporate Social Responsibility and Sustainability in Business.
A native of North Carolina, Neill lives in Weaverville with his wife, Cori, and their son, Ben.
Read More About Leesa
Leesa has an extensive background in working with Fortune 500 executives, professionals, and small business owners. She joined Earth Equity Advisors in 2015 after serving as president and principal consultant of Triple Bottom Line Consulting. Prior to TBL, she spent time working for three major corporations: Citibank, Cone Mills Corporation, and Bank of America, among other things, as a Managing Director/Senior Vice President.
In her role with Earth Equity Advisors, Leesa draws upon the experience of over twenty-five years of corporate finance work, her Masters of Psychology degree, and seven years of professional consulting and coaching work with hundreds of clients.  She helps clients to not only plan and invest, but to empower them to be positive changemakers through their investments. She strongly believes in the power of intentional investing and the impact it can have on the world.
Leesa has earned the Chartered SRI Counselor™ designation from the College for Financial Planning.
Leesa and husband Todd are Asheville natives, and have returned to the area to live in and restore Todd's historic childhood home in the Chunns Cove area.
Read More About Kerry
Kerry joined Earth Equity Advisors in 2015 after relocating from Northwestern Virginia, where she had worked for several years with homeless individuals and families as a Certified Housing Counselor and Master Financial Educator.  After several years in the nonprofit sector, she decided she wanted to work for a responsible business that worked on solving both social and environmental issues.  She was drawn to Earth Equity Advisors' goal to empower investors, allowing them to evoke positive social and environmental change.
Kerry graduated from the University of Virginia with a degree in Drama. She is a huge fan of theater – from attending to acting, directing and designing productions. She has always loved the financial side of her work from counseling homeless households to helping people invest with their values, since she sees money as a part of how we each write our own story.
Kerry has earned the Chartered SRI Counselor™ designation from the College for Financial Planning.
She loves being active in the Asheville community through her involvement with the Asheville Board for Ten Thousand Villages and Pisgah Legal Services' Young Professionals Board. She is a 2017 graduate of the Leadership Asheville program.
She lives in Candler with her partner, Tyler, and their two dogs and a cat.
Our Core Values
Integrity
Passion
Impact
Responsibility
Gratitude
Our Vision
Sustainable, responsible, and impact investing  for all.

Our Mission
is to empower sustainable, responsible, and impact investing across generations and communities to amplify financial impact and nurture positive change.
Our History
Changemakers in Fossil-Fuel Free Investing
2004
Pete Krull had a vision: give investors an opportunity to invest with their values. He opened the doors of his new firm, Krull & Company, in Roanoke, VA. 
2005-2015
As Krull & Company grew year after year, the firm's clientele expanded beyond North Carolina and became nationally recognized through its B Corp certification for outstanding service to clients and the community.
2010
Krull & Company's responsible investment strategy is selected as a case study for the United Nations Principles for Responsible Investing 2010 Report on Progress.
2011
Krull & Company's central office was moved to Asheville, North Carolina.
2016-2017
In January of 2017, Krull & Company, now a nationally-recognized firm, rebranded to become Earth Equity Advisors. Now more than one man's vision, the rebrand encompasses the firm's commitment to the universal principle that all people deserve the ability to invest in a way that's true to their deepest values. After receiving the "'Best for the World"' award from B The Change in 2016, they continued receiving acclaim with the "'Best for Community"' and "'Best for Customers"' awards in 2017.
Today
Earth Equity now serves clients in 22 states. As leaders in their community, Earth Equity offers an annual evening talk series that brings in sustainability thought leaders and authors from companies like Patagonia, The Atlanta Hawks, The James Beard Foundation, CNN, Green Century, and Cradle to Cradle Institute.
In 2018, Pete was honored to be included in the "Investopedia 100 List," recognizing him as one of the 100 most influential financial advisors in America. Pete is also one of the first individuals to earn the Chartered SRI Counselor™ designation from the College for Financial Planning. Continuing as a Certified B Corporation in 2019, they received the "Best for the World" award, for the fourth year in a row.