Impact Spotlight: Allbirds

BIRD
Allbirds focuses on sustainably sourced and manufactured shoes and apparel.
According to a report from the Apparel Impact Institute and Fashion for Good, the fashion industry accounts for 2% of global greenhouse gas emissions. And, a report from Planet Tracker lays out the pollution and water risks of the industry and the lack of transparency from most manufacturers.
Allbirds is a different, well, bird. First of all, the company is a Certified B Corporation (just like Earth Equity). This means that they are reviewed and scored based on their stakeholder impact. B Labs, the organization that certifies companies reviews five different areas: Governance, Workers, Community, Environment, and Customers.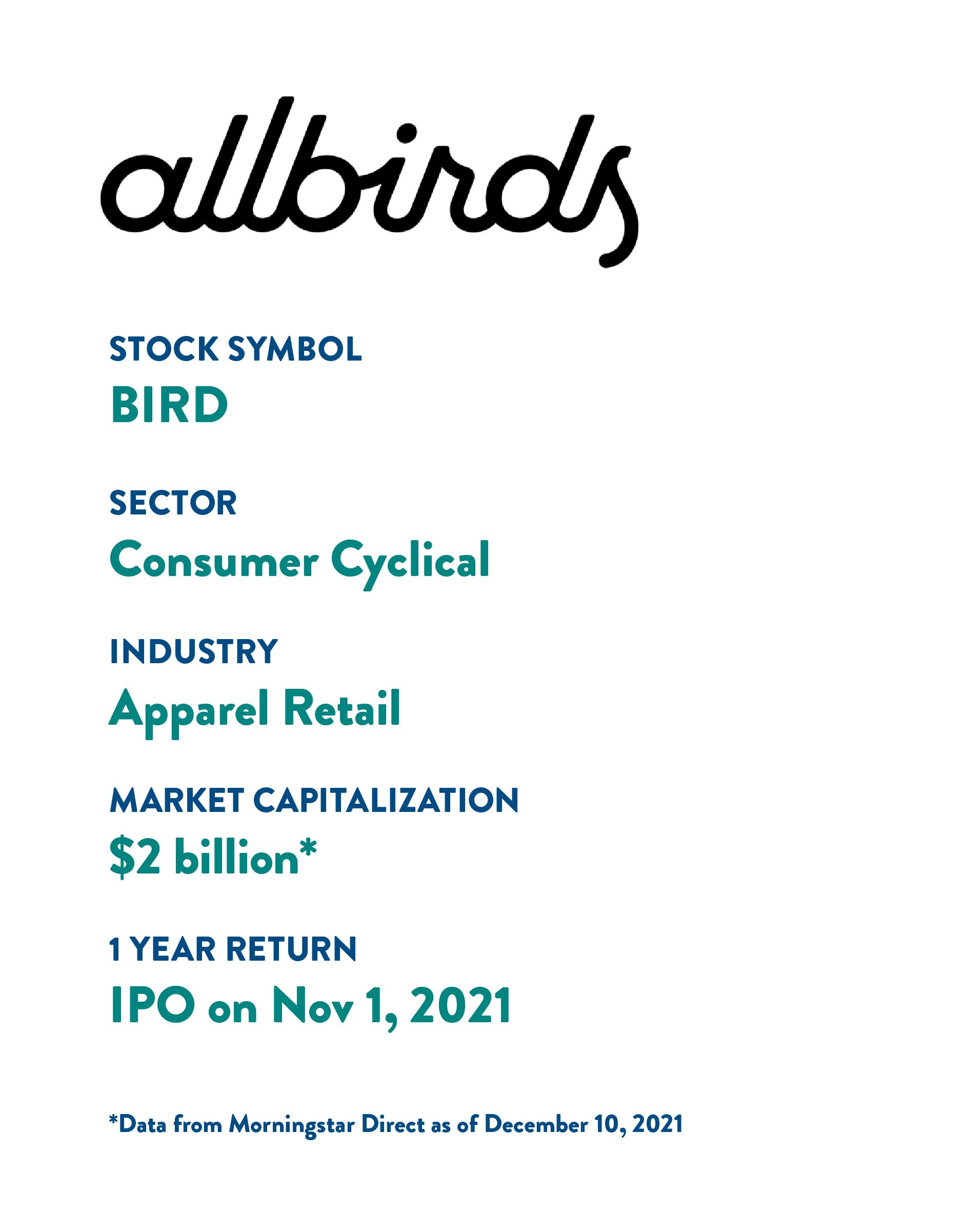 Unfortunately, there are very few publicly-traded B Corps, but each year, we see a few more making the responsible transition.
The transparency required for this third-party certification puts Allbirds head and shoulders above its fashion industry peers. It readily discloses its carbon footprint per shoe and has pledged to cut its footprint to near zero by 2030. They are already 100% carbon neutral.
The company is an innovator in sustainable materials – from the merino wool used in their shoe's uppers to the sugarcane-based soles and the castor bean oil insoles. Their suppliers practice regenerative agriculture, they use renewable materials and clean energy. You will be hard-pressed to find a more responsible, publicly-traded company.
The company has a diverse board incorporating five men and three women, but we would like to see more racial diversity in the room. Of the seven C-Suite executives, only one is a woman and, like the board, is not racially diverse. In spite of this, we still love the mission and products of the company and urge them to diversify their management team and board.
From an investment perspective, the company only recently went public, November 1, 2021. They have seen consistent revenue growth over the past few years and have continued to expand their product offerings beyond just shoes into apparel. While they are not yet profitable, the infusion of cash from the IPO should allow the company to stabilize while they put the appropriate systems in place for future growth and profitability. We believe they are the leader in sustainable fashion and will have a positive impact on the industry and investors' bottom lines.

About This Series
The world of sustainable, responsible, and impact investing is often surrounded by confusion and conspiracy. Our Impact Spotlights are designed to give you a glance into the value we bring with nearly 20 years of experience aligning our clients' investments with their values.
It's important to note that this is not a deep dive. For each of our investments, we start with a base of proven, fundamental economic analysis – this is the data that every "traditional" asset manager evaluates (e.g., price/earnings ratios, debt levels, growth, etc.). But then we dig deeper and apply our proprietary five-step evaluation to each of our considerations to ensure that each company in our final portfolio meets our rigorous standards. The Impact Spotlight explores the executive discretion we've applied to not-so-obvious solutions.
This blog was published on December 13, 2021 and may not be reflective of current portfolio holdings. Past investment performance is not indicative of future results. This blog is for informational purposes and should not be construed as advice. Investment advice can only be given to clients who have a signed investment advisory agreement with Earth Equity Advisors, LLC in place.
https://www.earthequityadvisors.com/wp-content/uploads/2021/12/EEQ_ImpactSpotlight_Allbirds_1-scaled.jpg
1025
2560
Earth Equity Advisors
https://www.earthequityadvisors.com/wp-content/uploads/2023/01/EEQ-Prime-Capital-Logo-Lock-up_Advisors-1030x375.png
Earth Equity Advisors
2021-12-13 16:39:05
2021-12-14 10:41:26
Impact Spotlight: Allbirds