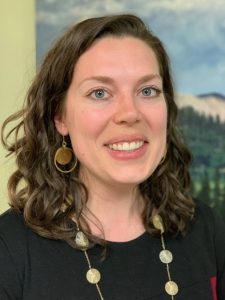 I was recently invited to attend the Ten Thousand Villages National Workshop in Lancaster, PA.  As a new board member of the Asheville store, I was very excited to go and the experience was incredible!  It was two and a half days packed with information. So many things were covered that what follows is only the tip of the iceberg.
One of the most interesting things was a discussion on how Ten Thousand Villages is moving away from the phrase "Fair Trade" (although they still onlysell Fair Trade products!!). Similar to the way the SRI movement has seen an increase in "greenwashing" (misleading advertising that an investment fund is green when it still contains fossil fuel investments), Ten Thousand Villages has seen an increase in "Fair Trade washing."  A growing number of large corporations have begun creating their own fair-sounding certifications with no third-party verification. Consumers are experiencing label fatigue and are tired of trying to figure out what certifications are legitimate.
Because of that, while Ten Thousand Villages will still sell only third-party verified Fair Trade items, they are moving towards describing their process more along the lines of microfinancing and ethical investing (see below photo for details). By explaining what it is they do without using terms like Fair Trade, they are hoping consumers will be able to connect with their mission and understand that it is legitimate.
The workshops started with a whirlwind tour of two Ten Thousand Villages stores in the Lancaster, PA area.  It was fascinating to see the entirely different layouts and what sold better, despite carrying the same products.  One store was located in an outlet mall, and the other on the bottom floor of a Bed & Breakfast.  There is a growing movement in Ten Thousand Villages stores across the nation to cut down on the use of plastic for displays, and instead use natural rocks and branches.  We heard about one store that upcycled crates from shipping materials and used them to build a counter for the cash register. Another store is testing out a "DIY Eco-Friendly Wrapping Station," where customers can use foreign newspapers and twine from the shipping materials to wrap their purchases (they also received free maps from local universities looking to downsize their maps collections – which make lovely wrapping paper!).
Shortly after the tours, we heard from Indro Dasgupta, Director of Craft Resource Center. He flew in from India to describe how the artisans associated with the Craft Resource Center produce their goods, and how the relationship with Ten Thousand Villages transforms their financial futures and their families'.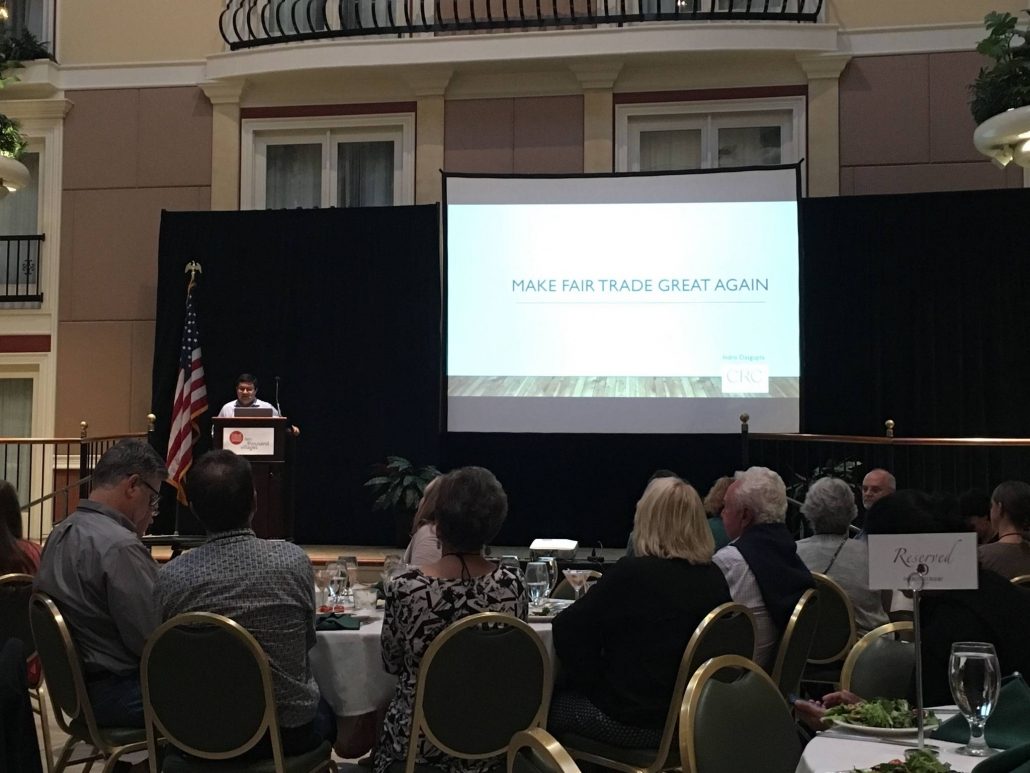 One of the latest products from the Craft Resource Center is an eco-leather bag.  Most leather is treated with a list of terrifying ingredients (including heavy metals) that can cause harm to the makers and to the environment.  Eco-leather bags are made from animals that have been killed for food, rather than solely for leather, and are treated with natural vegetable tanning extracts and dyes. Indro noted that these are not vegan leather bags – and that the Craft Resource Center has not been able to find true vegan leather (he said if you examine the labels of anything advertised as "vegan leather," you will see it still likely contains a large percentage of animal skin). While the material is not vegan, it is upcycled so that the skins of animals used for meat are not wasted.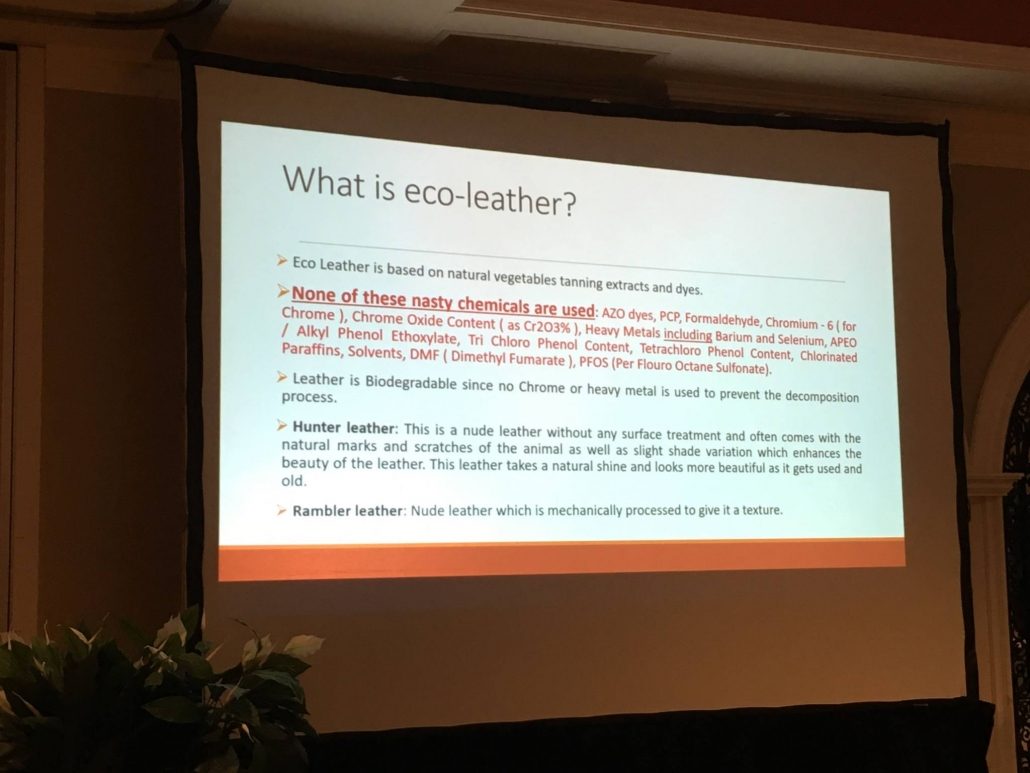 We also heard from two representatives of the Association for Craft Producers(ACP), who came from Nepal for the event. Their artisans produce many products for Ten Thousand Villages, from ceramics to felt (the most popular is the yeti ornament).  The ACP has made quite a difference in their Nepalese community – they provide a healthcare clinic to their employees, many of whom never had access to preventative care before.  They also are increasing the number of educated women in Nepal.  Typically, families with limited resources would only send their sons to school.  The artisans (mostly female) who work with ACP describe that now that they have a source of income, their voices count more and they can advocate for their daughters to go to school. ACP also offers scholarships to employees' daughters to help offset some of the expenses.
Educating girls is one of the top ten ways we can reverse climate change, according to the world's leading resource for climate solutions (Project Drawdown). While we regularly discuss Project Drawdown at Earth Equity Advisors, I was not sure how widespread its work was. To my delight, Project Drawdown was referenced throughout the workshops, highlighting the importance of paying artisans a fair wage so they can afford to send all of their children to school. Ten Thousand Villages is committed to protecting the environment – from reducing plastic in stores to promoting education to ensuring artisans use environmentally friendly dyes and other products.  It was heartwarming to see approximately 150 people gathered from across the nation with differing political views, all agree on the importance of Fair Trade and listen to the positive impact it has both on people and the planet.