By Jacob Gandolfi
Today, the Asheville arm of Conscious Capitalism hosted its second quarterly event of 2019, of which we were sponsors and attendees. About 50 local business leaders and inquisitive minds thronged the Game Room of Asheville Pizza and Brewing's North Asheville location to explore the topic of 'conscious leadership' in the workplace.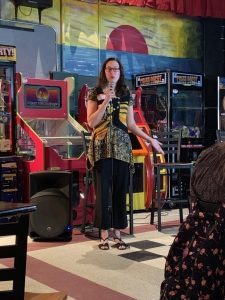 With a backdrop of retro arcade games and the alluring aroma of pizza filling the air, the analysis began with a few words on company culture at a conscious firm by Earth Equity's very own, Kerry Keihn. Then, panel discussion moderator Amy Climer of Climer Consulting spoke on her idea of the three levels of leadership and where the conscious leader fits within them.
Three panelists, Jennifer Lynch of Gaia herbs, Michael Hayes of Green Opportunities, and Asheville Pizza and Brewing's, Leigh Oder, then fielded questions from Ms. Climer to explore the idea a little further. They shared their interpretations of what it means to be a conscious leader and their experiences, both positive and negative, in implementing it.
For them, conscious leadership meant making sure their employees were taken care of and had positive role models to look up to. It meant taking the time out of their day to reflect and meditate on their motives. It also meant channeling their strengths and weaknesses into positive energy and constructive cooperation.
Attendees were also given the chance to express their ideas on the subject, both amongst themselves and during a short Q&A with the panelists.
Overall, it was an excellent display of the forward-thinking minds Asheville has to offer. Capitalism requires leaders to take risk and drive innovation on one hand. On the other hand, conscious capitalism requires conscious leaders to not only drive innovation, but to do so in a way that elevates humanity in a positive way.
The next Conscious Capitalism event will be held this September. The date and location are still TBD, but check back at the Conscious Capitalism Facebook page  for updates. You won't want to miss it as the topic is surely to be engaging and thought-provoking. Also, your favorite socially and environmentally responsible financial advisors will be there (that would be us, of course). So, come on out and say hi!