Sustainable & Responsible Investing Continues to Grow at Remarkable Pace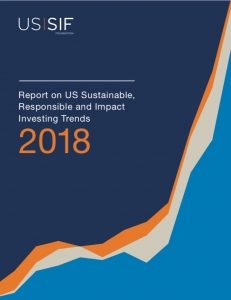 US SIF, the Forum for Sustainable and Responsible Investment published their biennial 2018 Responsible and Impact Investing Trends today. As we have been expecting, the amount of investments categorized as being sustainable and responsible has grown considerably since the last report back in 2016. Earth Equity Advisors has been a member of US SIF for over fourteen years.
Sustainable and responsible investing in the US has grown to $12 trillion from $8.7 trillion in 2016. That's a 38% increase and now accounts for just over ¼ of all investments under professional management in the US.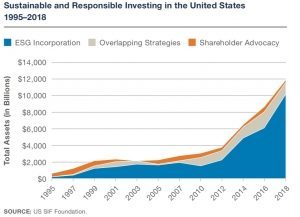 Earth Equity Advisors has seen asset growth of 60% plus over the last two years. "It's exciting to see our industry to continue to grow at this rapid pace and even more exciting to see Earth Equity bettering the industry's growth," said Earth Equity Advisors' CEO & Director of Investments, Peter Krull.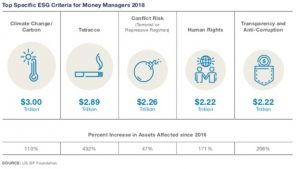 The report also catalogs the more than 700 shareholder resolutions filed relating to environmental, social, and governance issues during the 2018 proxy season. "Shareholder advocacy continues to be a good strategy to push companies to be better and truly helps Earth Equity to fulfill our mission to empower our clients to be changemakers," Earth Equity Advisors' Partner & COO, Neill Yelverton said. The top issues raised were proxy access, corporate political activity, climate change, and labor and equal employment opportunity.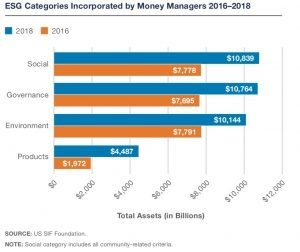 For more information on the US SIF report, visit the organization's website for an executive summary of the report or learn more about our investment philosophy.
https://www.earthequityadvisors.com/wp-content/uploads/2018/10/Screen-Shot-2018-10-31-at-3.19.25-PM.jpg
757
1045
Pete Krull
https://www.earthequityadvisors.com/wp-content/uploads/2023/01/EEQ-Prime-Capital-Logo-Lock-up_Advisors-1030x375.png
Pete Krull
2018-10-31 15:24:05
2021-01-22 14:36:38
Sustainable & Responsible Investing Continues to Grow at Remarkable Pace